Virtual Reality and Mixed Reality
The use of Virtual Reality (VR) and Mixed Reality (MR) technologies has set in motion a very new experience in human computer interaction and allows users to gain advance knowledge and experience with VR and MR as a learning and training tool.
Recent research has shown that VR and MR are technologies that can help us to develop and improve the everyday communication between humans and systems. There are so many examples in real life where VR and MR are very successful, like museums, marketing, education etc.
Virtual Reality is a technology that allows users to create or interact with a simulated environment. Using VR technology, the user is not interacting with a traditional user interface but is part of the experience in the virtual world participating and interacting with it.
Mixed Reality gives the user the opportunity to combine action from real world in order to control and operate with virtual objects, as they are present in the real world. MR is a technology that allows users to experience to merge real and virtual world. Applying gestures in the real world the user can interact with virtual object.
New equipment
Digi Labs are now equipped with the latest Virtual and Mixed Reality devices.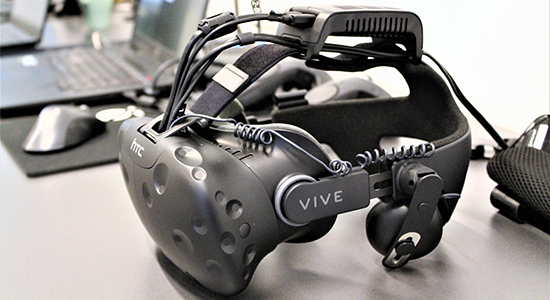 The HTC Vive and the Oculus Rift devices, offers an amazing experience of VR and provides users with many possibilities such as interaction and physically walk into the virtual environment using bespoke handheld controllers.
Microsoft HoloLens, device of MR is a standalone headset (computer) that can project images and holograms that appear to be in the real world. Using different sensors and cameras, the HoloLens is continuously scanning the space around the user and creating a 3D mesh of that area as a spatial map. Microsoft HoloLens makes possible for the user to interact with these holograms using voice control or hand gestures.