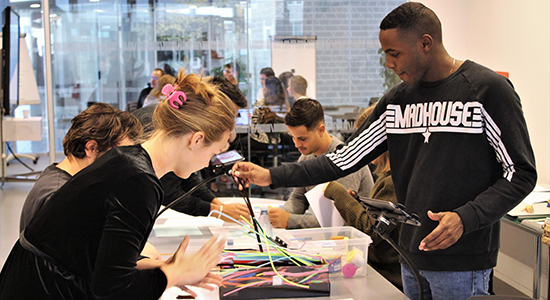 Make Lab
The main goal of Make Lab is to help researchers and students become more aware of the cross section between IT tools, software, techniques and digital humanities by simply applying their ideas in practice and create innovative solutions.
If you have a project or an idea in mind, but you feel you don't have the necessary equipment or knowledge to make it real, then Make Lab is the place for you.
At Make Lab you will find a large variety of tools, equipment and software that will help you bring to life your idea as wild as it can be. The resources provided within the lab will allow you to work on your project from the early stages such as, brainstorming, design align="justify" style="text-align: left;">You will get familiar with and explore different tools, software, techniques and equipment from raw materials such as paper, wood, plastic to electronics, robotics, programming, laser cut and 3D Printing.
But not only that, at Make Lab you can explore questions think creatively and bounce each other's ideas in order to build something innovative together. Think it as an iterative process place where you ask questions, fail and retry until you make it happen.
Based on the play and interact approach the lab offers different tools such as Electronic Developer Kit, Electronic Sewing Kit, Arduino Kit, Lego Robotics, and free source software programs that will allow you to create simple and advanced prototypes.
The Make Lab is also equipped with two 3D printers of the latest technologies. Craftbot 3 is a two-headed 3D printer that allows you to print 2 objects simultaneously and still maintaining a high quality and performance. The software for slicing and preparing the 3D Models for printing is fast and easy-to-use.