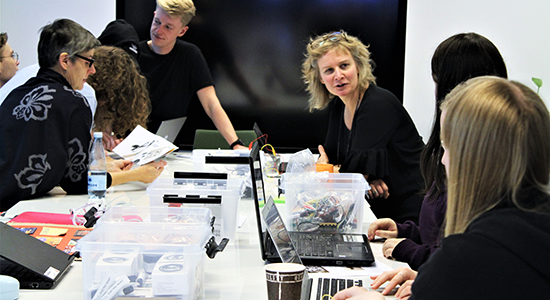 Why Makerspace?
During the last decades the digitalization process of culture and society has evolved into another phase. New digital media and platforms have been part of our daily lives for many years now and they are used all over and in different context. As a consequence, many people in our society are a vital part of the production of digital materials. [1]
This new phase of digitalization has affected humanistic research in different levels.
Research
"Made Digital: research that relies on the digitalization of analog materials and introduces digital methods to enhance form of analysis and interpretation."
"Born Digital: research that in addition works with materials which have been generated through digital technologies." [1]
Education
"Materials: increasingly all students of humanities encounter their domain of study through media that are either born or made digital, from e-books to digitized records of human cultural practices."
"Methods: a growing proportion of humanities students are relying on new digital methods, not only for purposes of presentation and visualization, but as part of their process of analysis and synthesis." [1]
The rapid development of digital technologies during this period has made possible for the new generation to access and acquire new ICT (Information and Communication Technology) skills in order gain knowledge and master this important domain. However the process of mastering these skills is not easy and depends on the individual experience with digital technologies and their understanding. [2]
The question is how can we make these skills more accessible to the student of humanities, and how to enable the students to explore these ICT skills?
All students should have at least the opportunity to explore and acquire some of these ICT skills if they want to keep up with the new era of digital humanities. Recent research has shown that a new way of involving and enable students to explore these ICT skills is the use of makerspace as an educational environment. [2]
The main goal and culture of the makerspace
Keep trying until you make it happen no matter how many times you fail - everything is possible!

Makerspace in a combination of different places, where students can participate into a variety of creative activities by simply putting hands on different tools and materials in order to make something. Makerspace is an environment where students based on a play and interact approach can design, make, construct, and invent things combining simple materials and new digital technologies and methods.
Consider makerspace as a place where all can start with a question an individual idea of creating something and in the end it can develop to a process in which a group of people join skills, share knowledge and bounce each other creativity.
References
[1] Digitizing the Humanities at UCPH, Workshop on Digitalization, Bolette Sandsford, Eva Andersson Strand, Klaus Bruhn Jensen, Niels Ole Finnemann, University of Copenhagen,Faculty of Humanities, March 2018. 
[2] Makerspaces as a Learning Environments – Informing Iterative Didactic Design through Hacking, Tinkering and Constructing with Technology, Magdi Enelstoft & Stayno Penchev Vasiliev, IT University of Copenhagen, Games 2017.